Financial organizations need to adopt the digital age to follow up the new innovative business models and good decision makers with instant insight with SAP S/4 HANA Simple Finance.
Suit 4 HANA is In-built Memory Computing platform means data is going to stored in RAM in row/column based, so that we can optimize processes, run on the fly analysis and more.
We can create a common view for all financial & operational data. It is providing more flexibility and easy reporting and automatic processing. And it is instantly evaluating the financial implications of business options with the real-time analytics, prediction and simulation with all new user experience.
Daily Challenges for SAP S/4 HANA Simple Finance
Complex system landscape
Immediate results
Massive growth of data volume
Skilled workforce
High flexibility
Simple finance covers the following areas of Finance
Financial planning and analysis
Accounting and Financial close
Treasury and Financial risk management
Collaborative finance operations
Enterprise risk and compliance management
Features offered in Simple Finance
Enabling the high-speed "real-time" analytics at "most granular level" across all the financial dimensions without any constraints
Built in ability to use prediction, analysis and simulation to evaluate the financial implications of strategic business options
One common view of real time 'harmonized' financial and management accounting data for all the subsidiaries, to help ensure enterprise-wide consistency and to reduce reconciliation of error and time
With a new HTML5 based user experience with SAP Fiori app, offering modern, consistent and personalized user experience on any device
Optimizing the Business and Event driven processes with real time execution
Cloud, On-Premise and Hybrid deployment and non-disruptive migration path
Universal Journal Entries in Simple Finance (ACDOCA)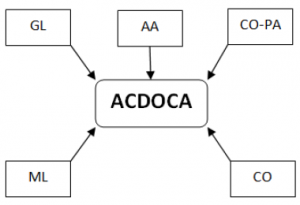 Asset Accounting, General Ledger, Controlling, Material Ledger will be stored in BKPF as View-able only.
Note: As per ECC 6.0 the number of customer fields can be also included in Universal Journal (ACDOCA)
The Simple Finance solution has demonstrated the value of simplification like for example no aggregate & index tables and instant insight in Finance.
The new Architecture with simple finance is Universal Journal (ACDOCA) as a single source of truth means one source for financial and management accounting and real-time reporting w/o replication to SAP B/W.
Universal Journal entry can be extended with COPA characters & value fields and 'Z' fields through [CODING BLOCK].
With Simple Finance, data previously stored in table COEP is now stored in table [ACDOCA] for value types 04&11 other value types are still stored in table COEP
If customers have written programs manipulating data in COEP directly; example via INSERT statements and the corresponding statements must be replace (SAP provides the class CL_FCO_COEP_UPDATE with the methods INSERT)
GL Master Records:
FI&CO integration is on real-time where the creation of cost elements (Primary & Secondary) has been moved to FS00 as follows:
X – Balance Sheet Accounts
N – Non-operating Expense/Revenues
P – Primary Cost Elements
S – Secondary Cost Elements
Central Finance:
Customers can take a massive project into Central Finance function without disrupting their ERP systems. But some customers seem to be misunderstanding on what actually Central Finance is meant to be in SAP. Central Finance is not a product but it is a deployment model for Sfin and formerly known as 'Central Journal" approach. If the company is looking for Sfin transition the Central Finance function is the best way to make a move.
Central Finance is a single component or instance where its gets integrated with other ERP or non ERP's through SLT (SAP System Landscape Transformation Replication Server).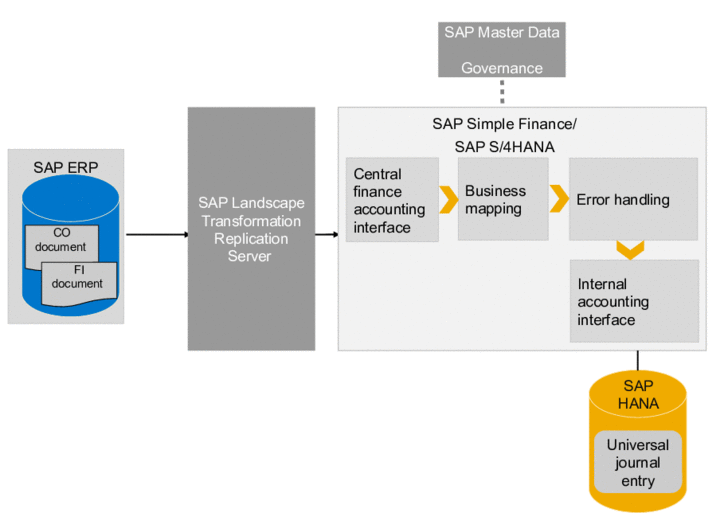 Simple Finance and Central Finance System Landscape
Simple Finance and Central Finance can be used in conjunction with SLT replication server and SAP MDG (SAP Master Data Governance). Simple finance integration with SAP MDG will help to harmonize the master data from source system to central finance system.
SAP Landscape Transformation replication server collects the data from database in source system and inputs the same into corresponding central finance system. SLT is used for ongoing replication data to central finance for both finance and controlling postings to SAP HANA as a universal journal entry (ACDOCA).
Prerequisites for S/4 HANA Simple Finance
The source system of SAP can be with different versions like ECC 6.0, Oracle, Non-ERP, Tally etc., but the target ON-PREMISE should be as follows
ECC 6.0 with EHP 7
SFIN 2.0
Service Pack 9
Note: Existing SAP users with less than ECC 6.0 EHP 7 have two step process, first upgrade to ECC 6.0 EHP 7 then deploy to simple Finance.
SAP S/4 HANA Simple Finance deployment flexibility

SAP S/4 Simple Finance is an application with a mission of Cloud deployment and most of the packages are only available in cloud. However On-Premise, Hybrid models and Cloud features are also possible.
Featured Video and Images from SAP